The outbreak of coronavirus disease 2019 (COVID-19), caused by severe acute respiratory syndrome coronavirus 2 (SARS-CoV-2), is affecting the whole world.
1
As a result, there are many hospitalized patients and increased demands on the healthcare system.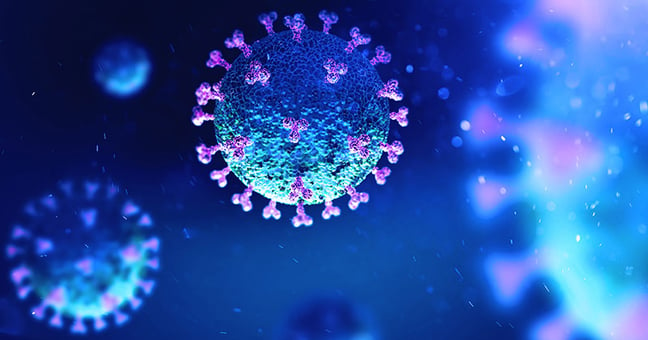 Limited support, increased isolation and stringent protection guidelines are now part of the day to day life for clinicians at the bedside. The effects of this virus continue to unfold and there are new challenges in the care of these patients. COVID-19 patients are often critically ill and many experience immobility, hypotension, and hypoxia.2 Care of the patient's skin and prevention of pressure injury remain ongoing goals of patient care, but can also present a challenge when caring for these critically ill patients. This requires frequent assessment and reassessment of the skin, as well as implementation of pressure injury prevention measures. These may include a therapeutic support surface, nutritional supplements, moisture barrier cream to protect the skin, turning and re-positioning/offloading as the patient condition permits, and Skin IQ for microclimate management.
Increasing reports of skin manifestations are being observed in patients with COVID-19. Are these skin manifestations caused by pressure injury or COVID-19?
While much of the pathogenesis of the coronavirus is unknown, there are increasing cases of complications due to hypercoagulation and microvascular occlusion including stroke and pulmonary embolism. This accelerated clotting process appears to also involve the skin.3-4 In a recent white paper published by the NPIAP, "Skin manifestations with COVID-19: The purple skin and toes that you are seeing may not be deep tissue pressure injury (DTPI)," notes many reports of concerning areas of purpuric/purple skin and purple toe lesions in patients diagnosed with COVID-19.5
Wound care clinicians are being asked if these skin lesions are forms of deep tissue pressure injury and/or "skin failure." Early reports of COVID-19-related skin changes included rashes, sacral areas of erythema with vesicles or pustules (pseudo-chilblain), other vesicular eruptions, urticarial lesions, maculopapular eruptions, and livedo or necrosis. The pattern and presentation of skin manifestations with COVID-19 is more than rashes.5 This article highlights literature review and case studies to assist the clinician and provide guidance in evaluating skin manifestations seen in these patients. The literature suggests there is a vascular component occurring in these patients that leads to skin manifestations.
A pressure injury is caused by pressure usually over a bony prominence and can be affected by moisture, friction and shear. A deep tissue pressure injury is a stage of pressure injury and presents as red, purple, or maroon discoloration that is non-blancheable. The skin may be intact and/or may open very quickly representing full thickness tissue loss. NPIAP discusses purple skin manifestations seen in COVID patients that are not over an area of pressure or bony prominence, such as the sacrum or heels, and according to this article are not to be considered pressure injury. This article also recommends that discolored areas on any body surface subjected to pressure loading or shear be palpated to detect differences in tissue consistency and temperature to rule out concomitant deep tissue pressure injury. After confirming that the skin change is not due to pressure, wound care providers should not label these skin changes as DTPI, but rather potential skin manifestations from COVID-19.5
Arjo is a leading manufacturer of both active and reactive therapeutic support surfaces and our certified wound care clinicians are able to partner alongside healthcare providers to assist with outcome based programs and solutions, such as Prevalence studies and Pressure Injury Prevention programs.
Karen Houchins, BSN, RN, CWCN
TSS Clinical Consultant, Arjo
---
Reference:
Michelle L. Holshue, M.P.H., Chas DeBolt, M.P.H., Scott Lindquist, M.D., et al., for the Washington State 2019-nCoV Case Investigation Team. N Engl J Med 2020; 382:929-936.
Guan WJ et al. Clinical Characteristics of Coronavirus Disease 2019 in China. N Engl J Med, 2020. Apr30;382(18):1708-1720. Epub 2020 Feb 28.
Oxley, TJ et al. Large-Vessel Stroke as a Presenting Feature of Covid-19 in the Young. New Eng J Med April 28, 2020.
Poissy J. et al. Pulmonary Embolism in COVID-19 Patients: Awareness of an Increased Prevalence. Circulation. 24 Apr 2020.
Black, J., Cuddigan, J. & the members of the National Pressure Injury Advisory Panel Board of Directors. (2020). Skin manifestations with COVID-19: The purple skin and toes that you are seeing may not be deep tissue pressure injury. An NPIAP White Paper.

https://npiap.com.virus.